ARTWORK CONVERSION TO MICROSOFT OFFICE TEMPLATES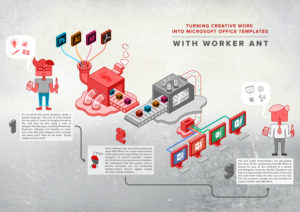 WE'LL TRANSFORM YOUR FABULOUS MAC ARTWORK INTO QUALITY, FOOLPROOF MS OFFICE TEMPLATES!
Worker Ant has extensive experience in the development and rollout of custom Microsoft Office templates. We partner with a number of globally recognised advertising agencies in the implementation of branding projects across the Microsoft Office platform.
A typical branding project will involve an advertising agency supplying Worker Ant with a brand guidelines and a list of templates to be developed. We will then create fully functional templates in PowerPoint, Word, Excel and if required Publisher that are user-friendly and protect the brand. With-in these company templates we develop extensive resource kits including icons, graphs and charts, various layout options and company infographics. Part of that template development rollout process includes compiling user manuals and training videos on how to use the templates and get the most out of them. This template process ensures that end-users within the organisation are able to produce high quality brand compliant documents quickly and easily. These branding projects have on occasion involved thousands of templates.
When required worker ant will develop PowerPoint toolkits that include vast banks of custom-designed layouts. After an initial presentation audit worker ant compiles a bank of standardised high quality corporate diagrams. This eliminates the need for users to create their own variations of standardised infographics. This saves time and strengthens the brand.
Worker ant is well respected and the go to company for PowerPoint and Word templates.